Once you have created your list of student details, you need to upload your list to the Assessment Centre.
The Assessment Centre is a secure website for the Computer Adaptive Baseline Test (CABT) which
you need to use to:
• Access all versions of the assessments
• Upload student details pre-testing, including average (I)GCSE score (if applicable)
• Review the status of your assessments
• Add missing data to the student record, e.g. subject choices
• Edit student details
• Add a new student record
Click onAssessment Adminon the Alis+ or CEM IBE+ website main toolbar.

Click on 2:Upload Student Details Inc. Subject Choices and Av (I)GCSE.
This will open the Assessment Centre.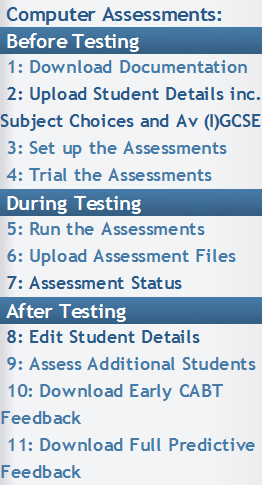 TheSelect Assessmentpage of the Assessment Centre opens in a new tab.
You will see a box like the one shown below.
Select the appropriate assessment: CABT (YEAR).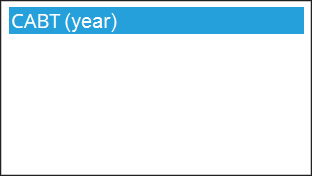 ClickOK.
TheWelcome to the Assessment Centrepage opens.
Click on theimportbutton.