You can check the status of your students' Alis/CEM IBE assessments by viewing the status reports in your Alis+ platform.
1. Go to 'Assessment Admin'.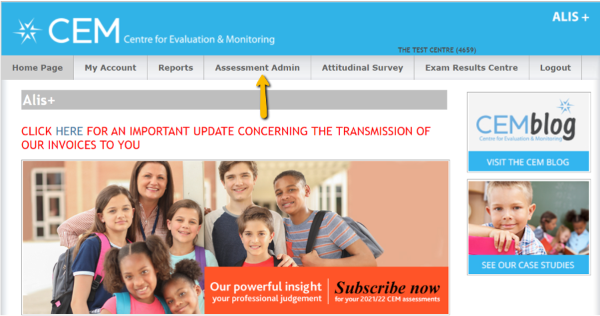 2. Select "2: Upload Student Details inc. Subject Choices" from the menu on the left:
3. Choose the correct assessment year and press 'OK'.
4. Go to the 'Status reports' section of the assessment centre.
5. Here you can see a table of all students you entered for Alis Year 12 and Year 13 along with all years from 7 to 11 (MidYIS and Yellis).
Completed = The student finished the assessment
In Progress = The student started but did not finish the assessment
Pending = The student did not start the assessment
6. You might want to filter the reports by Year Group, Class Name or Assessment Status.
Simply select the funnel icon next to each column header, type in the search information and click on 'Filter'.
7. You can also export the status reports in Excel and PDF format.