Log onto Alis/CEMIBE+
Click on Exam Results Centre.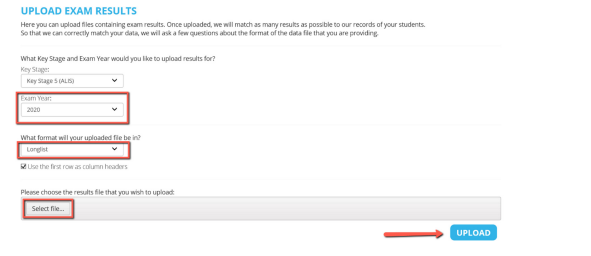 Click Select File to navigate to your CSV file.
Click Upload.
N.B: Use the dropdown menus to select the appropriate exam year and file format. If you are uploading historic exam results, make sure you select the correct exam year i.e. the year the exam results were awarded.
The next page will display a preview of your file and the detected headings.

Below the preview you will see the first mapping screen. You will see a series of these.
Check that the column headings and other values in your file match those in the Valid Values (even those that have mapped automatically) and correct any which do not match using the drop down options.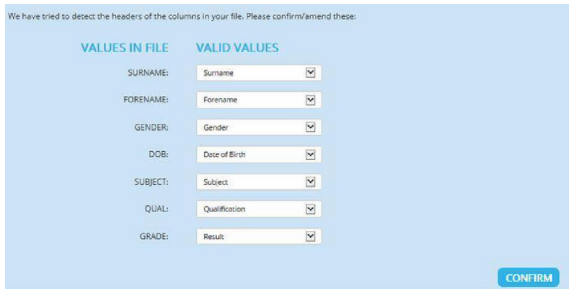 Click Confirm.
UPLOAD TIP: You may include all 5 examination result fields in your spreadsheet (Board, Option Code, Subject, Qualification and Result) and choose to select the Ignore option for qualification type and subject name during the upload process. This will force you to map to board and option code only which is a simpler and more accurate way to map qualifications as some subject names can be ambiguous.
N.B: If you upload a SIMS broadsheet, some column headings will appear that are not needed. Map the ones that have an option in the Valid Values and select Ignore against the rest.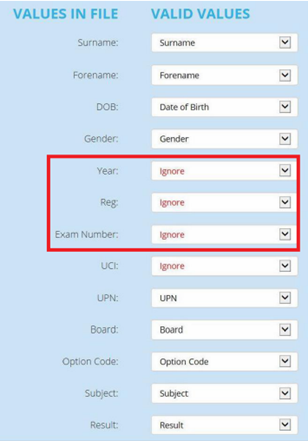 See below some examples of other mapping screens you will see (not exhaustive as it depends on the content of your file):


Fixing errors your CSV file
You may now be presented with a screen which will display any cells in your file which have not been validated and can now be edited with correct values. The question mark to the right of any cell will display information about why the validation failed and, in some cases, the allowed values. If there are no corrections to make, you will not see this page.

Make the necessary corrections to each record by typing in the missing data or selecting it from the dropdown menus as appropriate.
Click Confirm.
When your upload has been successful, you will see the following page: