Once you have created your list of student details, you need to upload your list to the Assessment Centre.
The Assessment Centre is a secure website for the Computer Adaptive Baseline Test (CABT) which
you need to use to:
• Access all versions of the assessments
• Upload student details pre-testing, including average (I)GCSE score (if applicable)
• Review the status of your assessments
• Add missing data to the student record, e.g. subject choices
• Edit student details
• Add a new student record
Click on Assessment Admin on the Alis+ or CEM IBE+ website main toolbar.

Click on 2: Upload Student Details Inc. Subject Choices and Av (I)GCSE.
This will open the Assessment Centre.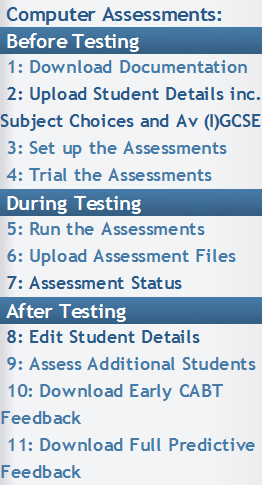 The Select Assessment page of the Assessment Centre opens in a new tab.
You will see a box like the one shown below.
Select the appropriate assessment: CABT (YEAR).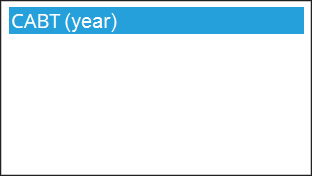 Click OK.
The Welcome to the Assessment Centre page opens.
Click on the import button.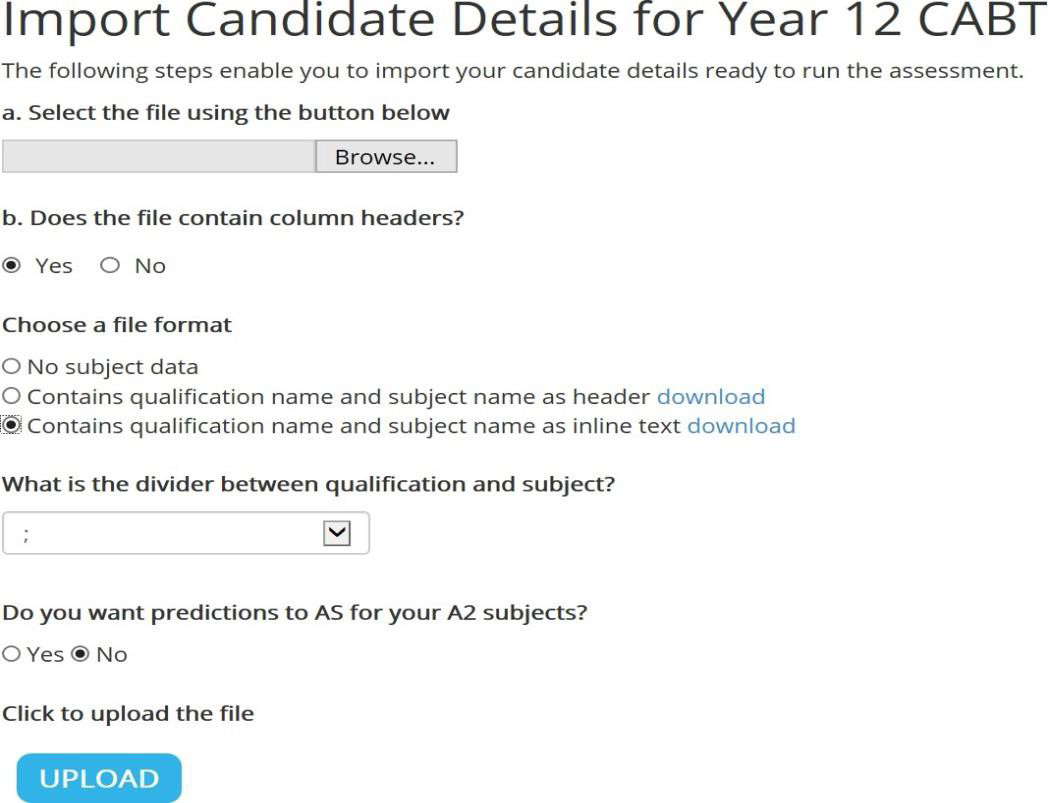 Click Browse and locate the file containing your students' details. If you are including subject data
then choose the appropriate file format and specify which divider you are using (one of the eight
characters ; @ # % & + = !) then click UPLOAD.

A page opens which prompts you to match the column headers in your file with CEM's headers. This
ensures that the data you have entered is loaded into the correct place in our database ready for
running the assessment software.
You will see a table with the column headers from your file in the left hand column and CEM column
headers in the right hand column.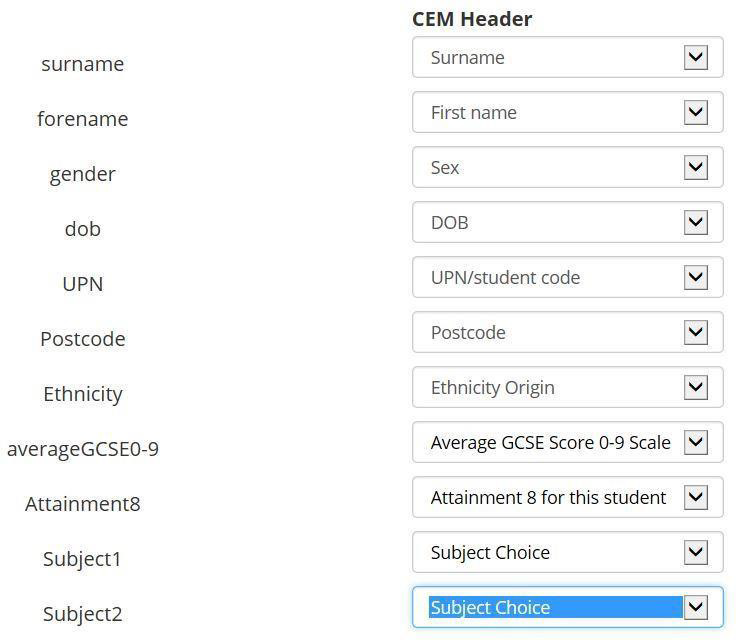 Select the descriptions which best match the content of your file using the drop down lists in the right
hand column. Columns left as ignore will not be loaded into our system. You will see more options to
match if you have included more of the non-required columns in your file.
N.B. It is extremely important that your students' average (I)GCSE scores are put onto the student
records using the 0-9 scale from academic year 2017/18 onwards (Y12 cohorts and later - see p.5 for conversion table). However, if you are a Welsh school, you should use only the 0-58 scale. Only one scale can be used. The system will try to prevent you from adding average (I)GCSE point scores on more than one scale via the spreadsheet upload or Candidate Editor. A warning message will appear asking you to fix the error. However, it is still possible to have 0-9 and 0-58 scores appearing on different student records within the same cohort. This will prevent some of your predictive reports from generating so please try to avoid this. For example, if most of your students in a cohort have scores on the 0-9 scale and only 1 student in the same cohort has a score on the 0-58 scale, this will cause problems with your predictive reports.
Remember that Surname, Forename, Gender and Date of Birth must be included. Other information may be added later.
If you have included subject choices, there will be additional matches and mappings to carry out. These are described in the next section.
If you used format 1: Qualification and subject name as header - you will see a set of headers to
match.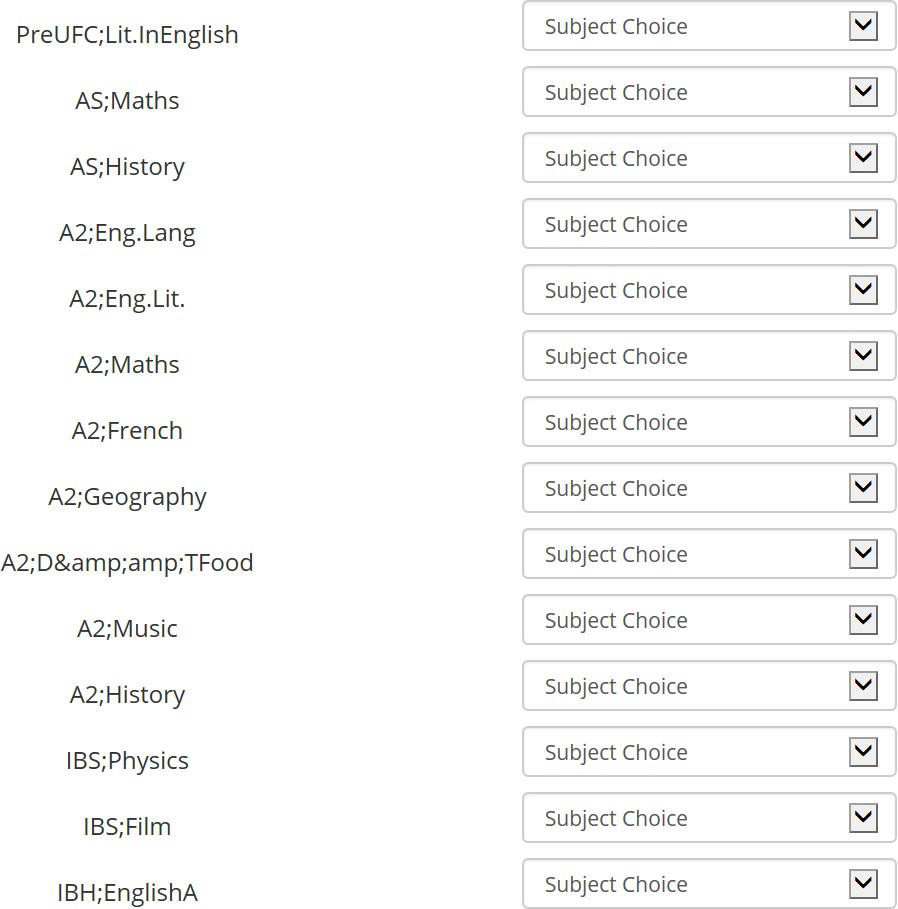 Similarly, if you used format 2: Qualification name and subject name as inline text - you will see a
set of subject headers to match.

Once all relevant headers have been assigned click NEXT.
If you have included subject choices you will then be asked to map qualification types in your file
with the recognized qualifications from CEM.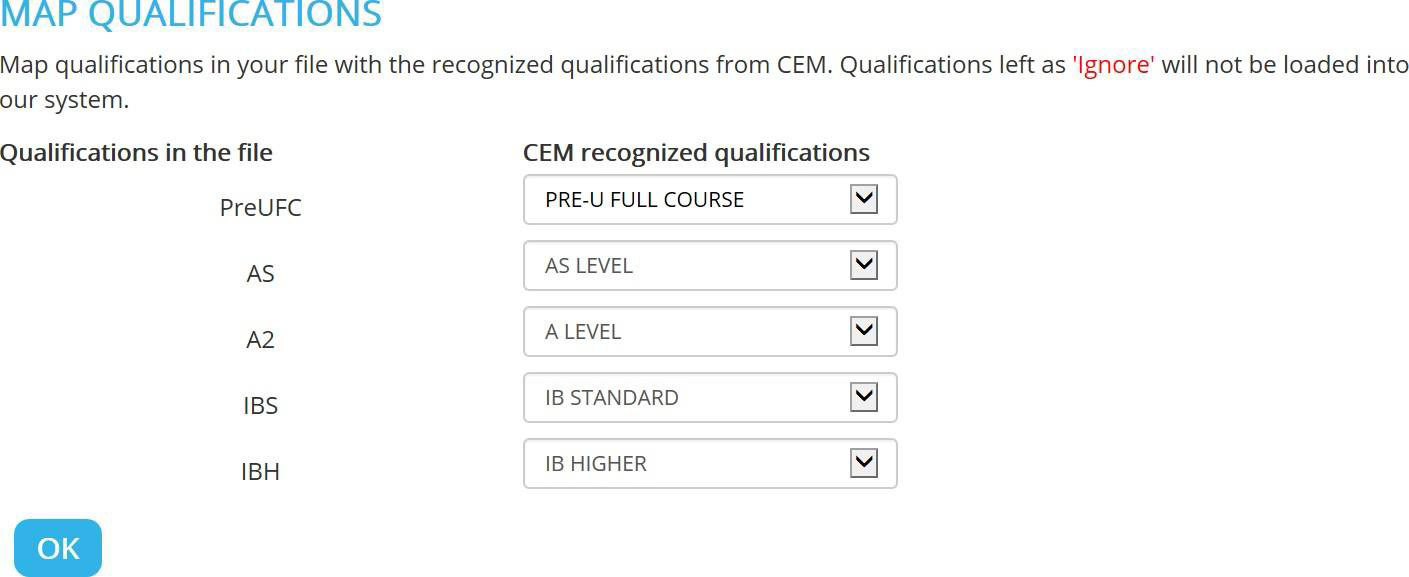 The relevant qualification can be selected from a drop down list. Once you have mapped
your students' qualifications click OK.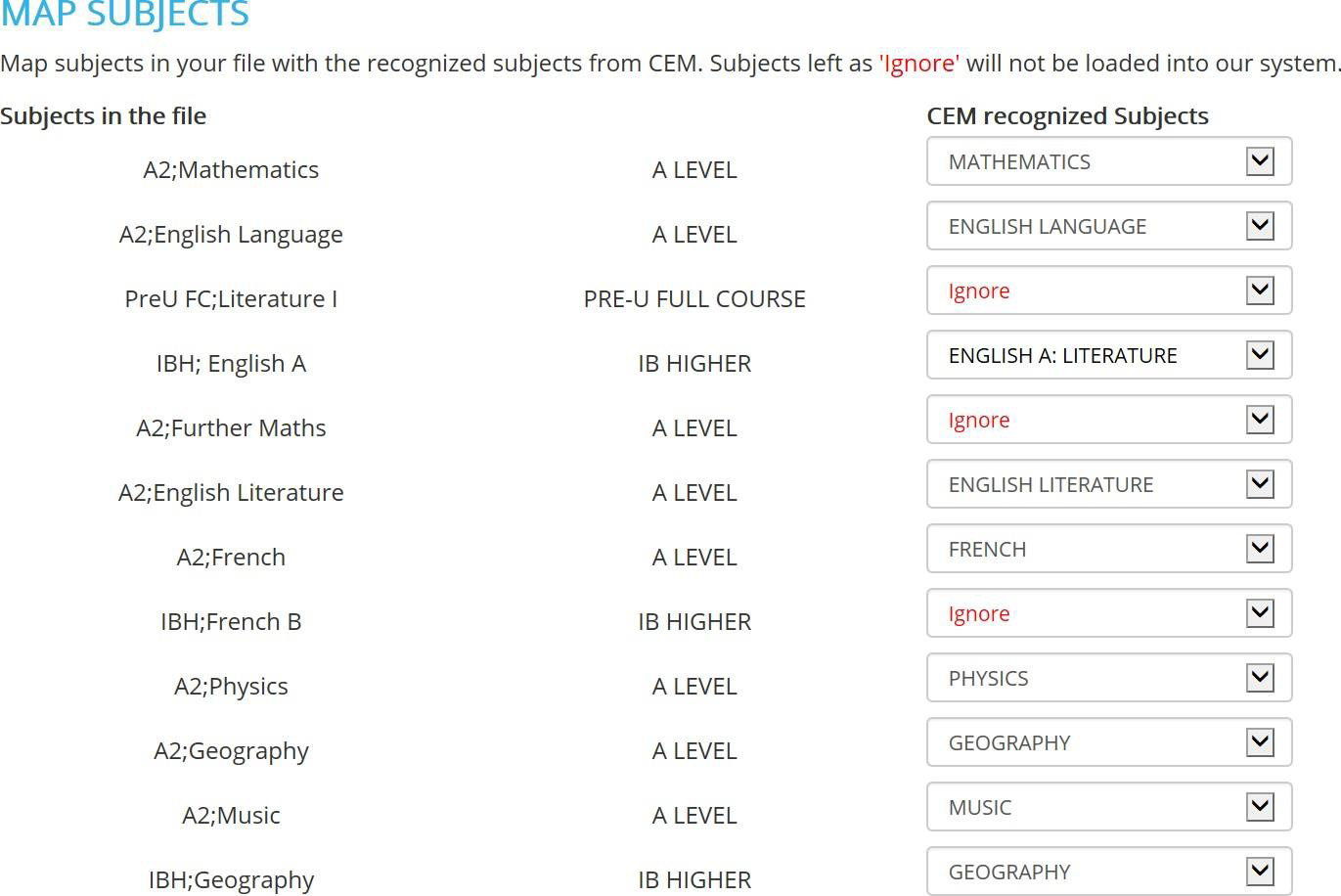 Once you have mapped your subjects click OK.
Please check that all your columns and qualifications/subjects are mapped correctly, even those
that have mapped automatically and remember any value mapped to ignore will not be loaded into our system.
If there are any errors with your data, they will be flagged up at this point and you will have
the opportunity to correct them before upload is completed. If there are no errors, a table will appear with all your students' details listed. There are options to Edit or Delete students' details.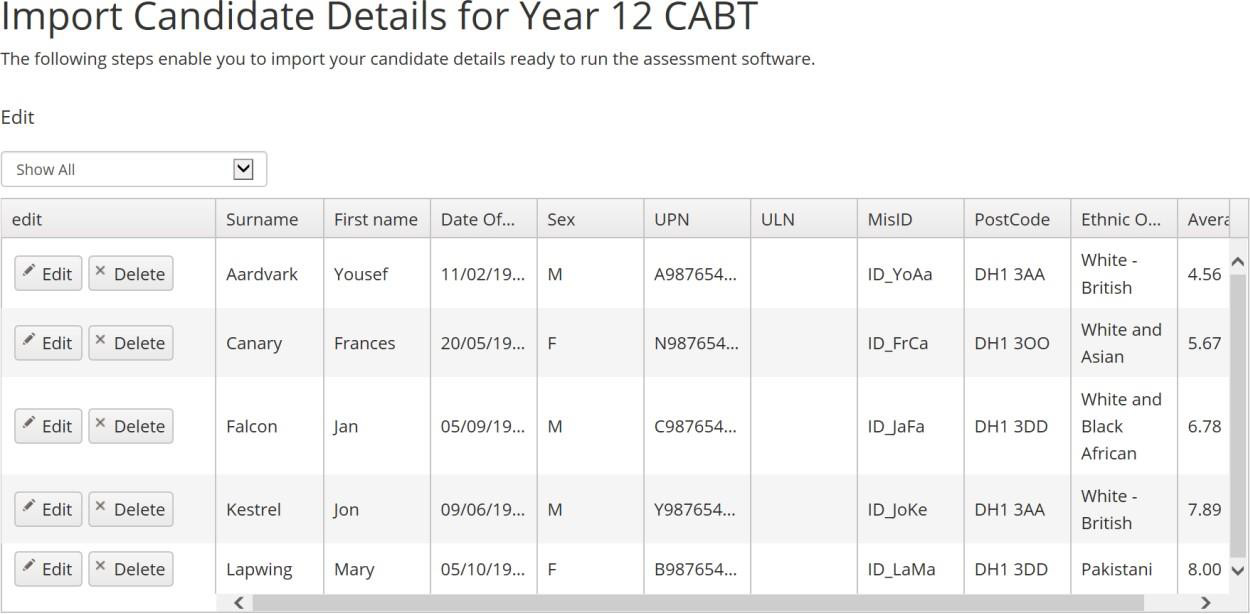 Once you have checked these details and made any necessary edits click NEXT.
If there appear to be any duplicate students in our database you will see a CANDIDATES MATCHING page. YOU WILL ALWAYS SEE THIS PAGE IF YOU ARE UPLOADING A SECOND SPREADSHEET TO ADD IN DATA THAT WAS NOT INCLUDED IN YOUR VERY FIRST UPLOAD.

You must now select update or include against each student record.

Selecting update will allow you to add missing information to an existing record (needed when adding
information not included in your first upload e.g. average (I)GCSE scores and/or subject choices).

Selecting include will create an additional student record (use only if there is no existing student record).

Once this is done click FINISH to complete the upload.