From the HOME page of Alis+/CEMIBE+ go to ASSESSMENT ADMIN > 7:ASSESSMENT STATUS > CABT XXXX > OK > STATUS REPORTS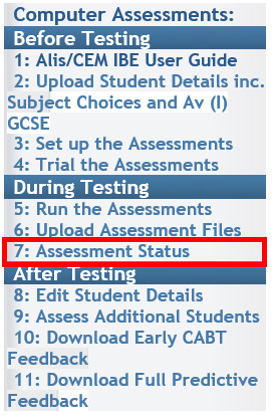 All of the year groups taking the CABT that you have uploaded to Assessment Centre will be visible. You can SEARCH for a student using their forename or surname.

You can also filter the data using the FUNNEL icon next to each column header. The example below shows only Year 13 students. The ASSESSMENT STATUS column tells you the assessment status of each student.

COMPLETED - means that the assessment has been completed successfully.
PENDING - means that an assessment has not been started via the Web-only version. It may have been completed using the Non-web version, but the assessment files have not yet been uploaded to CEM.
IN PROGRESS - This means that an assessment has been started but has not been completed and the student should be advised to complete the assessment. Alternatively, this message could also mean that the assessment has been completed but there has been an internet failure at the point of return and the response file has been saved locally. In this case the file can be uploaded to CEM in the usual way.

At the top right side of the page you will see export to PDF and Excel icons. Clicking on these icons will generate a file containing the same data as that shown on the STATUS REPORTS page.

You will be given the option to OPEN the file, SAVE it to disk, or CANCEL.