Alis/CEM IBE produces Baseline and Predictive Data and Value-Added Data
Baseline and Predictive Data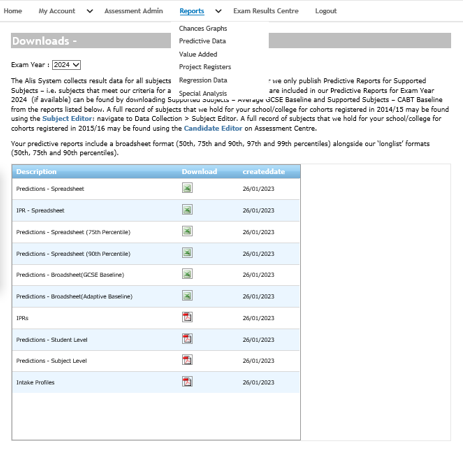 Baseline data
Standardised scores – comparing students' performance, this data can be viewed in the IPR PDF reports and the IPR Spreadsheets. The PDF reports provide a visual breakdown of results and highlighting relative areas of strength and weakness. 
Cohort ability profiles – help you see the spread of your students' ability. This information is available through the Intake Profiles Report. 
Predictive data
Subject-specific predictions and Chances Graphs – providing indicators of likely future performance in A Level examinations. This data is available in the predictions spreadsheets and chances graphs in the prediction PDF documents at student and subject level. 
Early CABT Feedback - a range of subject predictions for all students who sat the CABT based on the most common subjects the school entered in the past. See here to access
Value-added data
Value-added evidence for students and subjects – helps you to see the impact of your teaching and share best practice between departments.
Comparisons of student performance – show your students' progress in light of their predictions and progress made by similar students.
Evidence of school performance and improvement over time – provide objective evidence for internal evaluation and inspections.